'96 Dodge Ram for Sale!

Welcome to the world of Koro!

As you may come to determine on your own from the contents of this website, I have a glorious love for cars, a passion for Dodge, and a hatred of Ford. Below are links to the various locations here on my site. Most areas have something to do with the automotive world, but you will also find the other things that are important to me; such as my family and my friends. Scrolling down far enough will reveal some links to some other sites. Thanks for stopping by......Enjoy!

On a personal note, just getting this simple little homepage up has been an exhausting battle, and I would like to thank Beege sooooooooooo much for helping me out and putting up with my lack of any computer intelligence. He is an awesome friend of mine that always seems to be able to find a way to help me with computer troubles. Beege is the man. If you'd like to see what he does with a website, you can check his out by clicking here



Good times with the MTU Four Wheelers - These are some pictures of the good times that I have as a member of the Four Wheelers. Down below you can find the link to the official Four Wheelers site.

Jeep Wrangler Chevy 350 swap - Need some help swapping a Chevy 350 into a YJ? Here you may be able to find some help.

Return to Mud - The Chevy 350 powered Jeep returns to the mud...

Friends - Here is a collection of the pictures that I have of my friends.

Family - Here you can find the rest of my crazy family (yes, we're all pretty crazy).

Quotes - I'm not a big philosophical person, or someone who's into Shakespeare and stupid english stuff, but here you can see some of the quotes that I do enjoy.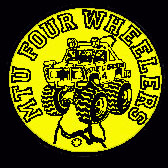 Back to top of page